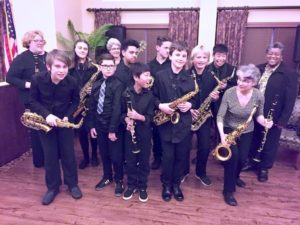 The theme for our Spring 2018 recital is Hand Over Heart in which we played music that moves us, touches us, brings us into our heart.
Nine students with three accompanists and our youngest guest artist ever performed music of Schumann, Schubert, Brahms, Heiden, John Williams, John Lennon and others.
Program
Over The Waves by Rosas
Zea Althoff, Mary Ellen Grace tenor saxophones
Scenes from Childhood by Schumann
Daniel Boime, alto saxophone; Judy Rose, piano
Theme from Symphony No. 1 by Brahms
Dooley Kim, clarinet; Judy Rose, piano
Moonlight Serenade by Glenn Miller
Deborah Hoff, Jackson Weinberg, Mary Ellen Grace, clarinets
Cantina Band Theme by John Williams
Caiden Searcy, alto saxophone
Olga Valse by Pierre Max Dubois
Alan Patterson, alto saxophone, Judy Rose, piano
Twilight Shadows by Ben Vereecken
Omar Vargas, Mary Ellen Grace tenor saxophones
Ave Maria by Franz Schubert
Jackson Weinberg, clarinet
Stranger on the Shore by Acker Bilk
Deborah Hoff, clarinet and Cynthia Hoff, guitar
Diversion by Bernard Heiden
Ally Shuell, alto saxophone and Mary Ellen Grace, clarinet & tenor saxophone
Imagine by John Lennon
Will Jacob-Kurilo, piano and Mary Ellen Grace, tenor saxophone
Please view video of the show. Eleven videos comprise the playlist of Hand Over Heart recital.
These two students made their debut performance with Grace Notes Music Studio tonight. Zea A played a duet arrangement of Over The Waves by José Rosas and Daniel B played four short movements from Scenes from Childhood by Robert Schumann.