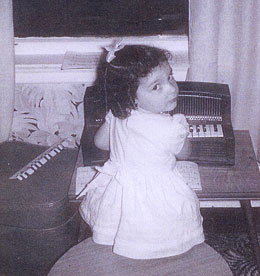 I love music. I love sharing my knowledge of music. I got an early start with music (that's me at left) and have continued exploring and tasting all that music has to offer.
All that music has to offer. Music has quite a lot to offer and I don't feel finished learning. That philosophy and my openness to try new things make me an excellent teacher. Just listen to what some of my students have had to say:
"In my late 30's I decided to learn to play the saxophone. Mary Ellen Grace came highly recommended by a friend that plays music with her in a Portland band. As my lessons started I soon realized that Mary Ellen is detailed oriented and VERY patient. She made the simplest exercises fun, allowing me to forget how difficult learning an instrument can be.

Her personality, style of teaching, and genuine love of music allowed me to really relax playing an instrument. She has allowed me to bring forth something that was deep inside me and nurtured it into an aspect of myself I'm very proud of. Knowing Mary Ellen Grace has helped change my life in ways I never expected. She has moved beyond just being my sax instructor and become a friend." — Brian Harris
---
"Meg, you're a gem! Our family has been exposed to many music teachers over the years, but none have brought such passion and creativity to each individual lesson. Your efforts to inspire my daughter to do more than simply play a song proficiently is a most commendable gift. (My daughter,) Joie has learned so much working with you – and had fun to boot!  Thank you." — Deedie Bassham
---
"Mary Ellen is an awesome teacher! She is always positive and energetic and patient. When I struggle with a piece or exercise, she uses metaphors to help me understand. She also pushes me out of my comfort zone, though it is for the better. It expands my musical knowledge and skill set.

Taking lessons with Mary Ellen has made me a more determined person. In band class, when I did not know how to play a part or was having difficulty with a section of the music, I would drop out and let the other members of my section cover the part. I was only one person, so I thought that it didn't make that big of a deal.

Though with lessons, I was forced, in a good way, to play through the difficult parts and master the piece. I never wanted to sound bad at lessons because then it was very evident who was playing the wrong rhythms or wrong notes. So I became more determined to be one of the best clarinet players around!

Mary Ellen is always helpful and insightful. Whenever I need help or am struggling, she tells me of numerous ways to make the tone sound brilliant, or ways to understand and play the music correctly. I am very grateful to Mary Ellen." — Katy Kimes
You can read more of what my students are saying about me on Meggrace.com.
Order your print or ebook copy today.
Or download my 32-page free excerpt >> Use the form to the right.