I work with music-loving adults and children, ages 10 and up. These students are enthusiastic about playing the saxophone or clarinet. They may have been in the school band or choir for a time. But many are adults who haven't touched a musical instrument since grade school, if at all.
Are some of these statements true for you?
"I want to play in the advanced band. I have been playing the saxophone for 3 years and feel I am the worst player in the section. My band director doesn't think I can handle the music in the advanced band. I want to show him I can!"
"It has been many years since I picked up an instrument. I love the sound of the clarinet! I want to become technically proficient so I can play a variety of musical styles, be able to express myself musically, and maybe play some duets with my spouse."
"Sometimes when I practice, I get a lot of squeaking sounds coming from my horn. My tone quality suffers and the cat goes to the furthest corner of the house. How do I consistently get good tone from my sax? How do I know if I am practicing correctly?"
"My music teacher said I could be in the jazz band if I learned how to improvise. She let me have a tryout which I totally wrecked. I don't know what notes to play, and get afraid I'm going to play a bad note and everyone will laugh at me. Maybe you're not supposed to improvise on the clarinet. Are you?"
"I like the sax. I think it is a sexy instrument. But I'm not getting much enjoyment from playing. I thought music was supposed to be fun!"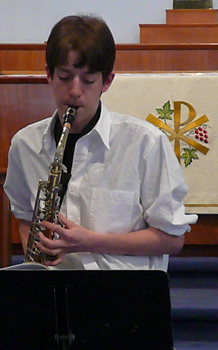 Meg Grace has been the perfect teacher for my son Davis. He has a mind of his own and needs to be frequently reminded and persuasively guided. Meg has encouraged him to seek out music that appeals to him and challenges him, and she has managed to seamlessly insert fundamentals and theory into the lessons in such a way that he accepts and even embraces them.

Becky Einolf
You are likely to be successful working with me when…
…you are motivated to make music. You practice on a daily basis because you are thrilled to be making music.
…you "think outside the box" and often realize there IS no box at all! Creative thinkers feel comfortable expressing themselves and you bring this expression to your music.
…you have discipline and persistence. These characteristics help sustain you in working through any challenges you come across in your musical education.
…you feel good about yourself. A high level of self-esteem and an optimistic outlook bring success, which encourages further success.
If you're ready…
If you're ready to contact me to set up an initial lesson, use the form on my Contact page or call me at 503-888-5796.
Now that you know the kind of students I work with, the issues I can help you resolve and what you need to do to ensure your success, learn more about How I Work.
Don't miss the Free Stuff section of my website, which has valuable instruction and advice geared for expanding your confidence and joy in music.