Next recital performance: Nov. 2017
Most Recent Recitals

From a first-time recital performer to veterans of four or more performances, our recital was well-played and well-received.
Today's recital is a gift to all of you from each one of us. Every one of us performing today would not be here playing this music, expressing our love for music without the support and inspiration of others.
View photographs and listen to video on the recital page.
In November, students performed the songs they had transcribed over the Summer. They chose the songs they wanted to learn, so you'll hear pieces like:
The Pink Panther by Henry Mancini on clarinet complete with an improvised solo!
Hedwig's Theme from Harry Potter by John Williams
A cartoon theme song – We Bare Bears
and other entertaining pieces.
Past recitals
April 2016 recital: Folk Music Around The World
Spring 2015 recital: Simple Gifts
Spring 2014 Recital: Playing By Ear
November 2013: Ballet, Polkas & Swing, Oh My!
April 2013: Spring Recital with Susan Peck
December 2012: Family & Neighbor Music
February 2012: Leap Music -February 5, 2012

More recitals listed below.
Meg [Mary Ellen] is an awesome teacher! She is always positive and energetic and patient. When I struggle with a piece or exercise, she uses metaphors to help me understand.

Taking lessons with Meg has made me a more determined person.

Meg is always helpful and insightful. Whenever I need help or am struggling, she tells me of numerous ways to make the tone sound brilliant, or ways to understand and play the music correctly. I am very grateful to Meg. — Katy Kimes
Active students perform twice a year in the Spring and Fall recitals. The Fall recital consists of performances of small ensembles; duos, trios, and the like. Playing groups are formed with other Grace Notes Studio students. You may also form an ensemble with family members or other individuals upon approval of Mary Ellen Grace.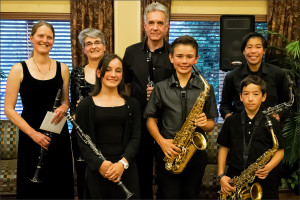 The Spring recital is your opportunity to perform a solo work, with or without piano accompaniment. Accompaniment may be piano, guitar, accordion or another chord-playing instrument. In most cases, the music will be chosen for you in accordance with your skill level. However, I am always open to student ideas for solo/ensemble music choice.
These events are your chance to show your family and friends all that you have learned in the preceding months. I find great inspiration in watching my students of all ages expressing themselves musically. It is exciting to hear them become the talented musicians they dream of.
Get some inspiration by clicking on any of the dates below. You can view photos, listen to recordings and in some cases view and listen to video recordings of past performances.
Perform at next recital
Would you like an opportunity to perform at the next student recital? Contact Mary Ellen Grace to arrange for lessons on clarinet or saxophone, or learn to improvise on any wind instrument.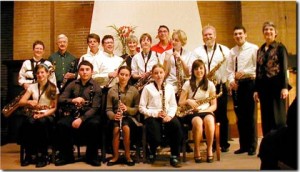 2011 Spring: Spring in the Village – April 10, 2011
2010 Fall: Tribute To A Teacher – December 5, 2010
2010 Spring: Sonata Improv – April 25, 2010
2009 Fall: Serious Play
2009 Spring: Solo Commonalities
2008 Fall: Commonalities
2008 Spring: Scelta dell'Allievo
2007 Fall: The Romantics: Beethoven to Sibelius
2007 Spring: Bella A Cappella
2006 Fall: Students of Swing
2006 Spring: Name That Tune
2005 Fall: Well-Tempered Duets & Trios
2005 Spring: Mainly Mozart with a Bit of Bop
2004 Fall: Duets 2X2
2004 Spring: Solo Instrument with Piano Accompaniment
2003 Fall: Small Ensembles
2003 Spring: Solos