The 2013 Fall recital was a resounding success! Five students partnered up with each other and played 7 duets. All the music was either a form of dance music or a song about dancing.
Here's our program, program notes, and video playlist. (Note: More video coming!)
Program
Emily Geoffroy & Ally Shuell, alto sax
Memories of The Ballet Waltz , Vereecken
Alex Karbowicz & Georgia Hastie, clarinet
I Won't Dance, Kern
Kaley Seeberger & Mary Ellen Grace, tenor sax
Shepherds Hey, Traditional
Georgia Hastie & Alex Karbowicz, clarinet
Pick Yourself Up, Kern
Ally Shuell & Emily Geoffroy, alto sax
     Bluesette, Thielemans
Georgia Hastie & Mary Ellen Grace, tenor sax
The Chatterer's Polka, Vereecken
Emily Geoffroy & Alex Karbowicz, clarinet
On The Street Where You Live, Loewe
Mary Ellen Grace, soprano sax
Midgets Dance and A Witches Frolic, Vereecken
Special Guests: Matt McCoy & Becky Gish, trumpet
Program notes
Ben Vereecken was a Belgian saxophonist who played in John Philips Sousa's band from 1910-1915. He wrote two methods for saxophone in 1917 and 1919 which greatly influenced sax students in the 20s and 30s.
Written in 1926, our first duet is an original work by Ben Vereecken written in the style of a ballet waltz. Here to perform Memories of The Ballet Waltz are Emily Geoffroy & Ally Shuell.
This next tune was written for the 1934 musical called The Three Sisters. The Three Sisters didn't do well, but this catchy tune did. Its composer, Jerome Kern, used it in another musical the following year.
In the musical, Ginger Rogers asks Fred Astaire to dance. You'd think his simple refusal I Won't Dance is because he just doesn't want to. No, he's afraid that more than dancing will happen — as the lyric goes: I know that music leads the way to romance, So if I hold you in my arms, I won't dance!
Here are clarinetists Alex Karbowicz & Georgia Hastie to perform I Won't Dance.
Shepherds Hey is from a collection of British folk music that originated in the 1400s. When these Morris Dances were played, the community gathered and danced in a great circle altogether.
No composer is listed for any of the tunes. Instead the county or area of origin is listed. Shepherds Hey is listed as from Headington. Kaley Seeberger will join me in playing this stately dance on tenor saxophone.
Another tune by Jerome Kern is the playful song about learning to dance, Pick Yourself Up. It was written for the movie Swing Time in 1936.
Ginger Rogers is the teacher and Fred Astaire is the pupil who pretends to need lots of help from the attractive instructor. After Astaire falls down yet again, Ginger sings to him "Pick  yourself up, dust yourself off, and start all over again."
Students Georgia Hastie and Alex Karbowicz are back to perform this catchy dance tune.
Our next piece is the jazz standard Bluesette by Toots Thielemans, another Belgian musician. Thielemans played guitar and harmonica and was well-known for his whistling. When he performed Bluesette, he used guitar and whistling in unison.
Emily Geoffroy and Ally Shuell will perform this piece on alto sax. Like the Ballet piece they played earlier, Bluesette is also in 3/4 time. Where the first piece was a waltz for the ballet, this work is a jazz waltz and they get to swing it.
What would a concert of dance music be without a polka? Well it would be incomplete. Luckily, Georgia Hastie chose this as her duet music. It's another piece by the Belgian saxophonist Ben Vereecken. I will accompany Georgia, who is switching to tenor sax for The Chatterer's Polka.
On The Street Where You Live is from the 1956 musical, My Fair Lady, with music by Frederick Loewe. As you know, Broadway musicals are full of people bursting into song and dancing at the drop of a hat. Or, in the case of the character Freddy Einsford Hill, he is moved to song and dance just by being "on the street where you live"
Emily Geoffroy switches to clarinet for this song and is joined by Alex Karbowicz.
That concludes our student performances. I'd like to play a couple of duets for you. Sadly, my duet partner got called for an important last-minute gig. But, the two tunes I'm going to play stand well as unaccompanied solos. I'll be playing soprano saxophone on two tunes by Ben Vereecken, Midgets Dance and A Witches Frolic.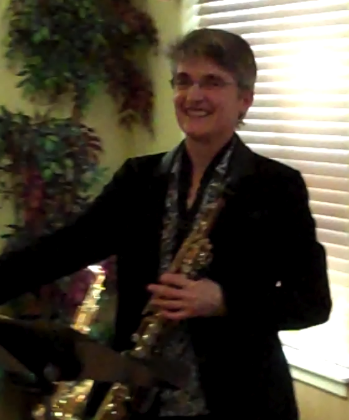 Video