Do you teach beginners?
Yes, I teach beginning clarinet and saxophone students. Students of all levels of playing ability are welcome here.
How long are the lessons?
All lessons are 50 minutes long and start at quarter after the hour.
Do you teach jazz improvisation?
Yes! I instruct musicians on any instrument who want to learn the fundamentals of improvisation. I use my music method, Truly FUNdamentals, to teach introductory improvisation lessons.
What days do you teach?
I teach Mondays through Fridays, mid-afternoon through early evening. In the summer, studio hours are late morning to early afternoon.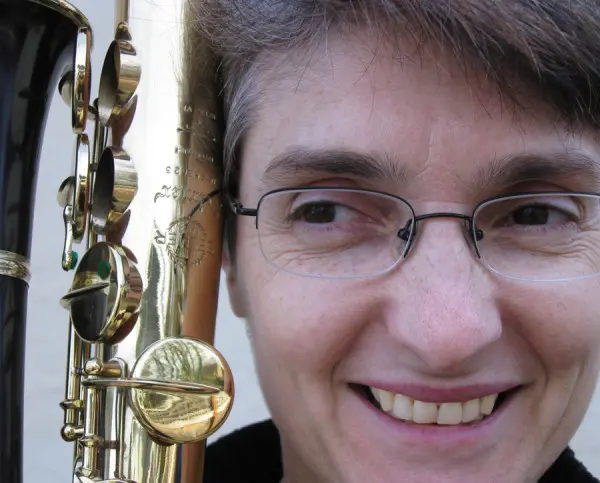 Where are the lessons taught?
All lessons are given at Grace Notes Music Studio, located in the Mt. Tabor neighborhood of Portland at 5644 SE Belmont St, Portland OR 97215. When either of us are ill or weather makes traveling difficult, I use the Zoom video conference software to provide distance learning and the learning can continue!
Do you offer performance opportunities for your students?
Yes! Twice a year, I produce student recitals; in the Fall and Spring. Students combine into groups of two, three and four and play duets, trios, and quartets. Many students perform solos with or without accompaniment. In 2020 and Spring of 2021, students recorded their performances and I stitched them together in digital audio and video software and presented them during a zoom-based recital. For the Fall 2021 recitals, students live-streamed from my studio over five separate Sundays in small groups of 2-4 students at a time. In May 2022, we returned to in-person performing together with health protocols in place.
How much are lessons?
Lessons are $65 for 50 minutes. See the Sign Up page for more detail about this.
What do you expect of students?
I expect each student to be involved in their lessons by asking questions, making sure their instrument is in good playing condition, rotating through at least two reeds regularly, and practice the assigned lesson.
What if I need to reschedule my lesson?
Reschedule or cancel any lesson at least 24 hours in advance. Please read my complete studio policies.