Woohoo!
I'm so glad you've chosen to give your child (or yourself!) the gift of music.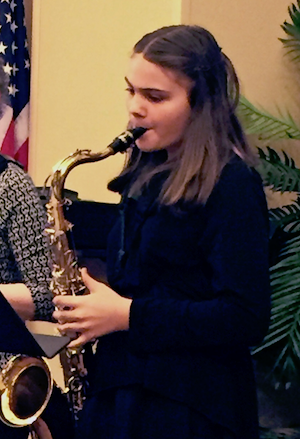 Give it a shot!
If you have a son or daughter that is curious or motivated [about sax or clarinet] or even in a rut looking for new challenges, ideas, and practice methods, give [lessons with Mary Ellen] a shot! If you're clear about your goals, Mary Ellen always responds and is flexible with her teaching techniques.
Mary Ellen came highly recommended by Jacob Soto, MTMS band teacher.
Thanks, Mary Ellen! Your manner is great! It's clear that you care about your students.

Cara & Chris Althoff, parents of Zea
Regular music lessons provide:
an expert, creative teacher working one-on-one with you in-person, face-to-face
working one-on-one means individualized attention that you can't get in a classroom situation
individualized attention in the form of a personalized lesson plan which focuses on what you need and want musically
I teach these important foundational practices.
Here is what you will learn:
proper embouchure
how to hold your instrument
hand positions
breathing instruction
fingerings and alternate fingerings
care of cane reeds
using synthetic reeds
good posture
reading and writing music notation
scales and arpeggios
articulation
songs
chord structure
performing without stress
how to actively listen to music
transcribing music from recordings
and more!
By-products of taking music lessons:
self-discipline
time management
self-confidence
teamwork
poise in front of groups
good listening skills
Long-term Gifts of Lessons
Music lessons are about more than learning to play an instrument. Music lessons are a gift that keeps on giving throughout one's life. Students learn self-discipline, time management, self-confidence, teamwork, good listening habits, poise on stage and in front of large groups.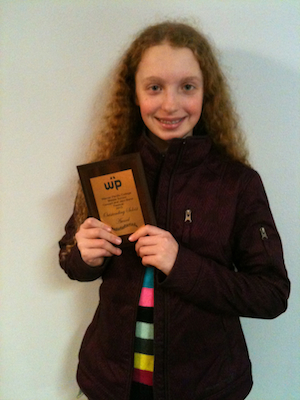 Mary Ellen is thoughtful and encouraging in teaching me. Before I started lessons with Mary Ellen, tenor sax was hard. Now it's not hard at all and I'm first tenor! Lessons with Mary Ellen helped me and they can help you too.

Georgia Hastie in 2013
Schedule your first lesson!
Lessons are delivered in-person, face-to-face, one-on-one. When weather or pandemic necessitates, lessons are delivered via a private Zoom room or FaceTime. Schedule your lesson online.
Convenient Online Schedule
Scheduling is handled online for your convenience. Visit my online schedule, create a free account, and reserve one or more 50-minute lessons in any of the available time periods. All lessons are $65 per 50-minute period and start at quarter after the hour, ending five after the next hour.
Schedule now! Getting started 1 – 2 – 3
Your music lessons begin in 3 easy steps.
1. Create a scheduling account: Visit the Resource Page for complete instructions on how to create an account and schedule saxophone or clarinet lessons. Then create your free account and start scheduling lessons!
2. Complete an Intake Form: Also on the Resource Page, is a link to the Intake Form which is completed online. You'll be agreeing to my Studio Policies and Expectations at the bottom of the Intake Form.
3. Pre-lesson phone call: I'll follow up all this logistical paperwork with a phone call to you. Kind of a pre-lesson get-to-know-you! We'll also talk about what preparation you may need for your first lesson.
---
Oh, I'm so glad you got this [automated payments] set up! That is really helpful for our budget. I like to put everything on my Visa so I know when I pay it off on the 12th of the month I am paying for everything in my budget.

L.S., mother of tenor sax student
---
Questions?
Do you have questions about any of the information on this page? Feel free to call me: 503-888-5796 or use my contact form.