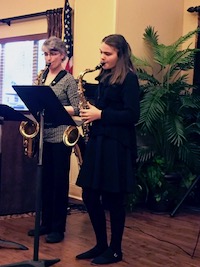 We love the multiple ways you explain things and how you have Zea use her own words to describe how the instrument feels and how the music sounds. You are responsive and helpful and do a great job encouraging our daughter to think about her technique and what does and doesn't work. I also like how you are clear and to the point with Zea and don't feed into her excuse-making.
Saxophone lessons have helped Zea improve her technique and the lesson assignments create deadlines and have given Zea extra motivation to practice.
If you have a son or daughter that is curious or motivated [about sax or clarinet] or even in a rut looking for new challenges, ideas, and practice methods, give [lessons with Mary Ellen] a shot!
If you're clear about your goals, Mary Ellen always responds and is flexible with her teaching techniques. Mary Ellen came highly recommended by Jacob Soto, Mt. Tabor Middle School band teacher. Thanks, Mary Ellen! Your manner is great! It's clear that you care about your students.
—Cara & Chris, parents of Zea, Portland