What pages are in the Services section?
Gain Confidence And Feel More Joy Playing Your Instrument
Does it feel like work when you play music?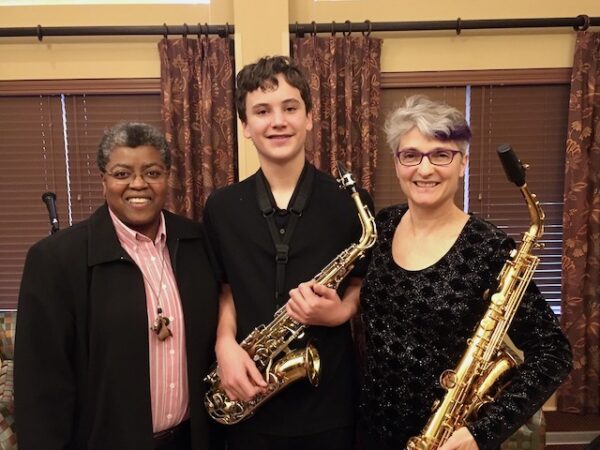 The lessons you've provided have been such a positive thing for Alan. For a shy guy, it has provided a great opportunity to find confidence in front of a crowd, and provided a nice place to land in high school — to be in the concert band.

I know that beyond the music Alan has also benefited from the positive relationship with you.  You have been consistent and reliable and just completely lovely in every interaction.  You've somehow provided this great balance of acceptance while also providing challenge — a true gift.

— Jen Patterson, 2021
Do you feel drawn to making music but don't seem able to produce a pleasing clarinet tone? Do you wonder what happened to the joy you felt when you took up the sax? Many people new to the clarinet or saxophone are limited by an improperly-formed embouchure (how your mouth interfaces with the instrument), preventing them from playing the full range of their horn. Some students are unable to progress in their skills because they don't understand the nuts and bolts of music.
You can bring joy back to your musical practice.
When you have a solid understanding of music fundamentals like playing in tune, alternate fingering positions, and the difference between a major and minor scale; realized in an encouraging learning environment, you are more confident in yourself. More confidence helps you relax. When you are relaxed, the play returns to your music experience! This is the foundational setting in which you will learn at Grace Notes Music Studio.
The purpose of these lessons is to increase your skill level on saxophone and/or clarinet and enjoy the process!
In private instruction with Mary Ellen Grace, you'll learn how to:
form a sax and clarinet embouchure conducive to excellent tone
play in tune
articulate individual notes in staccato, legato, and marcato styles
balance hand and finger positions
read music notation
sight-read music (Never fear a music party or jam session again!)
construct and play major and minor scales
construct and play arpeggiated chords (Major, minor, dominant and more!)
transcribe music from a recording
play by ear
improvise
practice effectively to achieve your goals
audition for state contest or college admissions
arrange music from piano score and fake books
You'll also acquire these skills:
memorizing scales and chords
understand music theory
understand both jazz and 'legit' styles of playing
develop your musical ear
become competent in choosing when to use alternate fingerings
increase the range of your instrument via altissimo
prepare for the performances in the twice-yearly recitals
basic music arranging
grow your repertoire of music
Perfectionism prevents progress.
There is a perception in the music world that when you make music, it has to be perfect, or correct, or good! (by a very limited definition of the word.) In this view, there's no room for mistakes. This perception is supported by many musicians and music teachers. I take a different approach.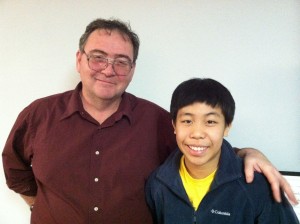 Ally has grown in confidence and blossomed in their sax playing. Since taking lessons with Mary Ellen, Ally has a better understanding of why they goe through the [warm up] routines. Ally's workouts at home are more focused and frequent.

I'd recommend any sax student to work with you. You show particular aptitude for working with middle school musicians.

— Tom Shuell, Associate Professor of Mathematics, Concordia University
Take a musical journey to your true musical self.
Musical success comes as the result of connecting with your true musical self. My program focuses on cultivating your inherent musical skills and guiding you along your musical journey; reaching your delighted destination. Along the way, we celebrate mistakes. Mistakes open a window to your true self. When you give yourself permission to make mistakes, you make room for the as yet unknown opportunity.
Benefit from the experience of a lifetime of performance and instruction.
Mary Ellen "Meg" Grace of Grace Notes Music Studio has been inspiring musicians of all ages, to achieve their musical goals since 1991. She began her own musical journey at the age of four. Mary Ellen offers private programs for: beginning saxophonists and clarinetists; individuals returning to their instrument after a period away; instrumentalists wanting to improvise; and clarinetists and saxophonists preparing for performances and/or music jobs. Read about clarinet and saxophone lessons.
Ready to sign up?
Choose your monthly lesson program here.
Please call Mary Ellen at 503-888-5796 to learn more about how you can get more gratification from playing the sax or clarinet. She will be happy to discuss your situation over the phone at no charge. Call 503-888-5796 now. You can also provide me with some detail about your situation by filling out the form on my Contact page.