December 2012, The Hastie Home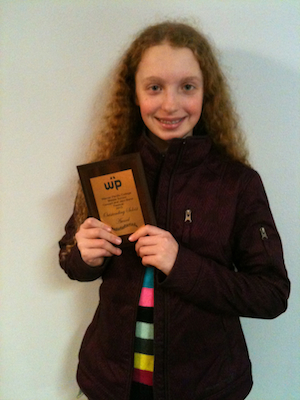 As student Georgia was preparing a clarinet solo, I encouraged her to practice performing her solo in front of her family — to use them as a practice audience.
Well, one thing led to another and soon her accomodating parents had organized a home recital with performances by Georgia's grandmother and a young neighbor from across the street.
I joined in the fun, too and the result is the Family & Neighbor Music recital.
Pictured at right: Georgia holding the award she won for Outstanding Soloist @ Warner Pacific College's Middle School Jazz Band Festival, February, 2013. Back to Main Recital page.
Program:
Nocturne, Op. 9 No. 2 by Frederic Chopin
Lullaby by Vladimir Ribokov
Infant Holy, Infant Lowly (traditional Polish carol) and He Is Born (traditional French carol)
Mongolian songs #6 and #7
Tableaux de Provence by Paule Maurice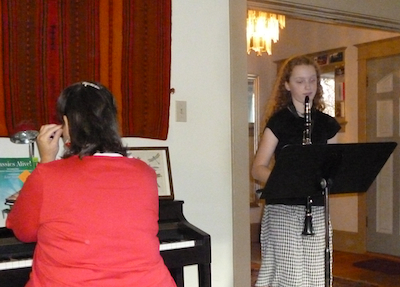 Above photos: Mary Ellen Grace playing Tableaux de Provence; Georgia Hastie playing Lullaby; Georgia playing Nocturne.
Enjoy video from the recital:
Click this button
To see a list of all the videso in this playlist, click this button at the bottom of the player. The button appears once you click play.
Perform at next recital
Would you like an opportunity to perform at the next student recital? Contact Mary Ellen Grace to arrange for lessons on clarinet or saxophone, or learn to improvise on any wind instrument.