You know, when life is stressful and there are a great many requests on your time, it's important to remember to take care of yourself. Give yourself a chance to rest and enjoy the moment. Stop and smell the roses, we used to say.

Listening to music is one way to care for yourself. In fact, it is one of the oldest and most holistic of therapies. Pythagoras, the ancient Greek founder of music therapy, sang soothing melodies to his followers based on the belief that music brings harmony to the human soul.

Today's recital is a gift to all of you from each one of us. Every one of us performing today would not be here playing this music, expressing our love for music without the support and inspiration of others.
That's how I introduced our recital on Tuesday, May 9, 2017
Performers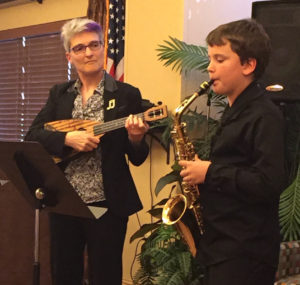 Alan P, alto sax, first recital! Played This Old Dog, aka This Old Man, in gratitude for his dog, Goldie.
Marcus M, alto sax. Played two songs from The Jungle Book: I Wanna Be Like You and The Bare Necessities with gratitude for Japan. Marcus speaks Japanese and relishes the culture.
Ella S, clarinet. Played two duets from the Lazarus Clarinet Method, a Polonaise and Allegro. Grateful for her dog, Taffy.
Caiden S, alto sax. Inspired by his older brother, Camden to play the saxophone, Caiden played the theme music to Hawaii 5-0.
Deborah H, clarinet. In appreciation for the changing seasons, played Over the Rainbow from The Wizard of Oz, accompanied on piano by her co-worker, Barrett.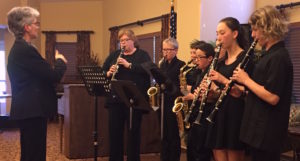 Jackson W, clarinet, played his mother's favorite song in gratitude for her, Part of Your World, from The Little Mermaid.
Alex K, clarinet, arranged Robert Schumann's Scenes from Childhood for three clarinets. When Alex was young, her mother often played these songs on the piano to help Alex and her sisters fall asleep.
Mary Ellen Grace, that's me! I played the ukulele and sang June Night. In appreciation for my spouse Anita whose favorite song this is, and also inspired by my students who are continually learning new skills and trying new things. This was my first time singing in a performance!