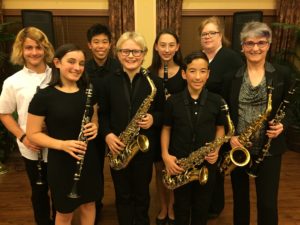 November 2016 was more than the month of the Presidential election. Much more!
My students performed a recital at The Courtyard at Mt Tabor, entertaining their families and the residents of The Courtyard.
Video now available
Please visit my YouTube channel to view and listen to these fine performances. https://www.youtube.com/user/omegatroid
Here's a sampling performance from the recital. Ally Shuell performing the Minuet from The Huffner Serenade by W. A. Mozart. All videos from today at my YT Channel.
Program
Caiden S played Frere Jacques as a solo and then with the rest of the students in a round. This was Caiden's first recital after starting sax lessons only three months before!
Alex K played Clementi's Sonatina on clarinet. Alex has been playing clarinet for seven years and at the time of this performance is a junior in high school.
Marcus M played two different TV theme songs on saxophone: We Bare Bears and Binks Sake. Binks Sake is not only used in a cartoon theme music but is also a known Pirate song.
We heard a sweet clarinet duet of Chim Chim Cher-ee from the 1964 film Mary Poppins. Played by Deborah H and duet partner, Mary Ellen Grace.
Jackson W played Hedwig's Theme from the Harry Potter movies on clarinet. Jackson makes time for clarinet and band practice while also being on the swim team at his middle school.
High school junior, Ally S, played the Minuet from The Huffner Serenade by W. A. Mozart.
We closed out the performances with a stunning rendition of The Pink Panther theme music by Henry Mancini. Ella S played the theme song while a small group of audience members snapped their fingers for accompaniment.