Lessons Nurture Self-Expression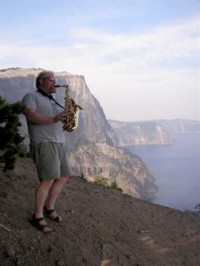 In my late 30's I decided to learn to play the saxophone. Meg Grace came highly recommended by a friend that plays with her in a Portland band. As my lessons started I soon realized that Meg was detailed oriented and VERY patient.
I had NO music background at all. I needed an instructor that could break it down and take the time to explain to me the finer points of the beautiful language of music. She kept meticulous notes on my progress and was always eager to answer any questions. She made the simplest exercises fun, allowing me to forget how difficult learning an instrument can be.
I have had other instructors since leaving Portland and compare them all to the high level of professionalism, musical knowledge and raw talent that I found with Meg. Her personality, style of teaching, and genuine love of music allowed me to really relax playing an instrument. Her recitals became a place to showcase how my abilities had improved and gave me the confidence to not only play for my own personal enjoyment but to join a large concert band and play for hundreds of people.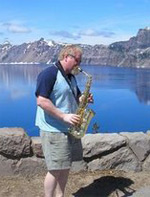 She has allowed me to bring forth something that was deep inside me and nurtured it into an aspect of myself I'm very proud of. Knowing Meg Grace has helped change my life in ways I never expected. She has moved beyond just being my sax instructor and become a friend.
—Brian Harris
Brian Harris loves playing the sax so much now, he takes it wherever he goes. These two photos show him playing at Crater Lake in southern Oregon.