Unlimited lessons…
---
Your Grace Notes Music Monthly Package includes:
Unlimited saxophone or clarinet lessons each calendar month. These lessons are custom-tailored to your unique needs as a musician and they evolve over time as your skill develops. Schedule as many as you like. You will be sent an invoice at the start of each month for that month's lessons. The lessons can be used at any time during a calendar month but unused lessons do not roll over into subsequent months.
Brief consultations by phone between lessons, should you have a question or encounter a problem in your practice.
In addition to developing greater skill, comfort, and ease in playing your instrument, you'll learn the critical sight reading skills that every musician must know in order to play at a moment's notice and not lose the fun!
I'll also show you how to properly care for your instrument, including using cane reeds and synthetic reeds. And if you currently need to purchase an instrument, I'll give you tips on how to select the best instrument for your needs and your budget and where to make your purchase.
Additionally, I'll provide an ongoing focus on both music appreciation and music theory, both of which are essential elements in becoming a well-rounded musician.
You'll also get two performance opportunities each year with ongoing support for participating in those performances.
---
And throughout your time with Grace Notes Music, I'll always hold the vision of you already being the talented musician you dream of becoming. I'll inspire and call forth your innate musical genius, walk side-by-side with you while you grow as a musician, and encourage you to have fun all along the way.
Sign up Today!
Choose your monthly lesson package here.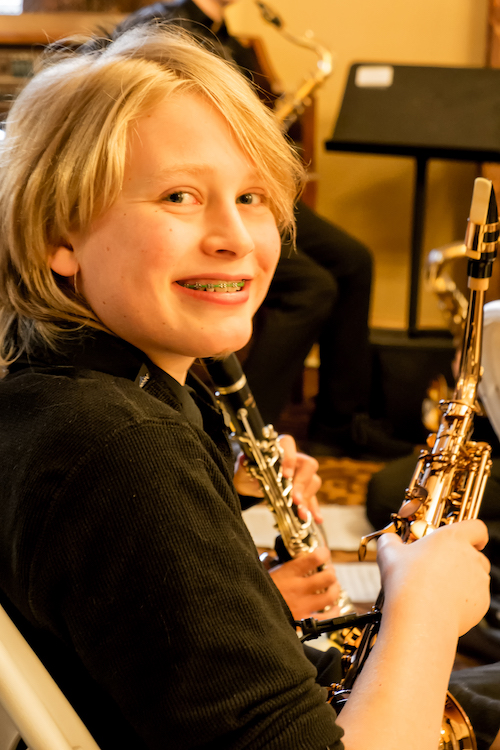 Brian Searcy
Caiden's dad, Brian: "Mary Ellen is a great saxophone teacher. She is enthusiastic, patient, and listens to her pupil's questions thoughtfully. It was her excellent website chock-full of raving testimonials that made us decide to sign up for lessons for our son, Caiden."
Caiden: "As a saxophone teacher, Mary Ellen makes the lessons fun. I'm always excited to go to my lessons. Her explanation of dotted half notes was a big ah-ha moment for me. Mary Ellen's teaching style has made it easy for me to learn to play the saxophone quickly. How would I describe her? Fun. Easy-going. and Patient."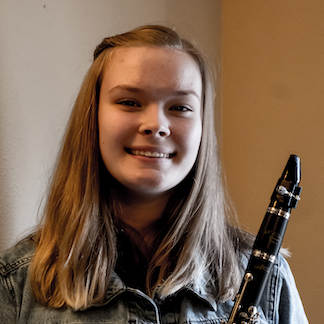 Lexi Phares-Culver
I like playing music more now!
I chose to take clarinet lessons with Mary Ellen because she came to my school as a guest teacher and was helpful and really nice.
Private clarinet lessons have made a difference in my life. I'm learning things I hadn't heard from my band teacher. I may be busier now but I like playing music more!
One of the most valuable things Mary Ellen does in my clarinet lessons is to really make sure I understand a concept before moving on to the next thing. Mary Ellen is fun, helpful and patient!