Weekly Quartet Class!
SERI Class will run Wednesdays, 5-7pm:
Sept 25
Oct 2
Oct 9
Oct 16
Oct 23
Oct 30
Nov 6
Nov 13
Participant requirements: 18 months-2 years of study and play at least 5 major scales on sax or clarinet.
At the first class, you will receive all the music you'll be learning during the eight weeks. Each week we work on:
Intonation and proper tone
Blending individual sounds into a group sound
Practice leading and following
Developing your sight-reading skills
Articulations, dynamics, and rhythms
Preparing for performances
Building effective teamwork
A fave feature is the small class size.
We're talking about quartets, friends, so this class will be limited to (4) four participants. Feedback from the participants always mentions this aspect of the class as their favorite feature. They like the personal attention they get from me.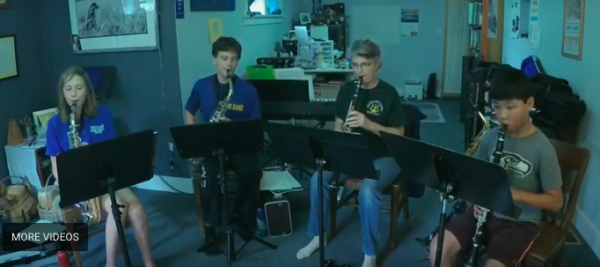 Song Selection
I haven't chosen the music you'll be playing yet. If you have a suggestion, use the contact form on this page to share your idea. You will learn three or four tunes and receive all four parts to the music. You will receive instruction on how to:
play in a small ensemble
blend when you don't have the melody
lead when you do have the melody
In quartet music, usually one voice has the melody, one voice holds down the bass line, and two voices play the rich, juicy harmony parts. Some arrangements move those parts throughout the whole quartet.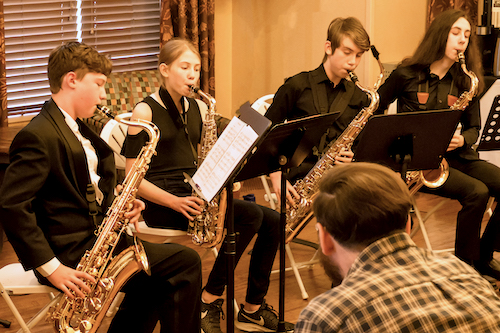 Where and How Much
All classes will be held at Grace Notes Music Studio. Detailed instructions are sent upon registration.
$340. You get eight two-hour classes. Lots of personal attention from the instructor due to the small class size. Keep the sheet music for all the pieces played. Opportunity to play at the fall recital mid-November.
Team Building
When students play in a small ensemble they develop confidence in their playing abilities. They learn about harmony, song structure, how to lead, how to follow, and teamwork.
But most of all, they have fun!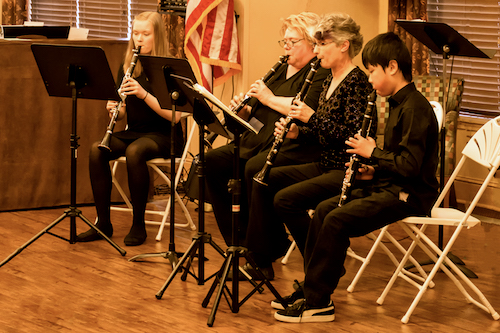 Registration
Click the Buy Now button to register for class. Monies are processed through the secure PayPal gateway. The Thank You page includes instructions about the class and you will receive a welcome email about a week before class begins. Class begins Wednesday, September 25. Registration is now closed.
Your Instructor
Your teacher is Mary Ellen Grace who will give you instruction, support, and encouragement.
Mary Ellen "Meg" Grace was born in the Philadelphia area, raised in New Hampshire, received her B.S. in Music Education from Indiana State University, and finally settled in Portland.
She is a longtime member of and performs with Portland Wind Symphony, Rose City Wind Symphony and Rose City Swing. At Grace Notes Music Studio she teaches saxophone and clarinet.
Mary Ellen is a practicing Buddhist and in her spare time enjoys composing music, hiking to the top of Mt Tabor, and listening to The History Chicks podcast.