Amazing Transformation in My Playing!
My daughter took clarinet lessons with Meg Grace and had a good experience. She wasn't into music, but Meg made her feel comfortable with it. I decided to take saxophone lessons with Meg partly because my daughter had a good experience and partly because Meg was local and I wanted to support my local community. I've been taking lessons with Meg for 6 or 7 years now.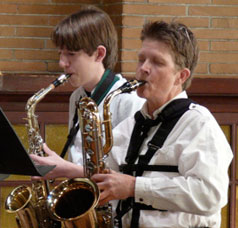 As an adult student, I have a very busy lifestyle, and I needed someone who would be flexible in her approach with me. I wanted it to be fun, and I didn't want to beat myself up if I didn't have time to practice every week. Meg is attuned to what her students want. She doesn't impose her expectations on her students.
Meg is very good at accentuating the positive. She finds what I'm doing that works and helps me to improve from that place. When I first started playing, I was squawking. She provides encouragement for me to make music. Meg not only teaches her students how to play the instrument, but if they want to learn musical theory she will teach that too.
I am able to come to a lesson and say, "Here's what I'd like to work on today. I am going to perform this piece in a talent show." Meg has worked with me on those things and she has loaned me books to help me accomplish my personal goals. She encourages me to explore other things easily without me even knowing I am exploring them. For example, she'll just pull out some piece of music and suggest, "Why don't we sight read this?" And then I discover that I am getting better at sight reading.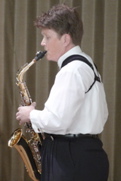 Another thing I enjoy is that she involves me in choosing the music that I play. She does two recitals a year. When I first started taking lessons, I didn't want to play in the recitals. They made me nervous. Meg was very gentle about it and encouraged me to do them. It's been nice the way she gently motivates me. It turns out that they really are helpful.
I never dreamed I would perform in [non-recital] concerts, yet I have performed in three over the last two years. That was not a goal I had when I started taking lessons. Playing in her recitals has helped me get comfortable enough to perform in other public venues. My original reason for taking saxophone lessons was just for the fun of it. Meg has compassionately led me down a path of learning, and now I can do some very challenging music. I'm amazed at the transformation in my playing!