Stress is reduced by learning to play clarinet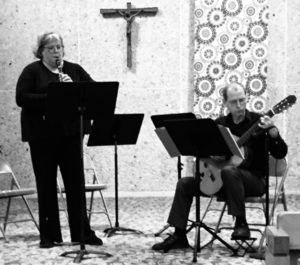 Mary Ellen is a knowledgeable clarinet teacher with a great sense of humor. I look forward to coming to my lessons and to practicing.
I wasn't playing the clarinet before I started learning with Mary Ellen. Being able to play the clarinet has reduced the stress in my life as an ER Nurse.
Taking lessons has provided structure at a steady, consistent, and comfortable pace. I've made progressive and consistent improvement, particularly in my comprehension of reading music and counting rhythm. If I'm having difficulty understanding a concept, Mary Ellen uses a unique approach that makes sense to me.
She's prepared, relaxed, artistic, and flexible. She is professional and knowledgeable but also relaxed and easy going. It's obvious that she enjoys what she does.
Music brings joy to my life and being able to play the clarinet in addition to listening to music has added so much joy.
—Deborah Hoff, ER Nurse