December 5, 2010, Tabor Space
I inherited two crates of mostly saxophone music from Rich Briglia's estate. Five of my students and 14 musician friends of Rich Briglia performed music from Rich's music library. We heard clarinet quartets, saxophone septets, sax trios, even mixed duos (clarinet and alto sax)!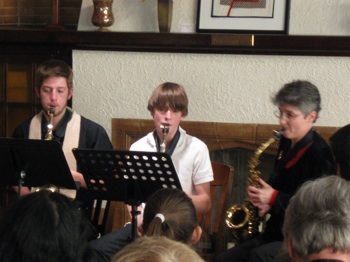 Music heard in this recital includes:
Shortnin' Bread – clarinet duet
Greensleeves – sax trio
Shadows of the Night, God Rest Ye Merry Gentlemen – clarinet trios
Eastern Song, Tango – clarinet and alto sax duets
New York, New York – sax quartet
Rondo, Tyrolean Dance – clarinet and alto sax duets
Cool Saints – sax quartet with rhythm section
Over The Rainbow, Bach Goes To Town: Prelude & Fugue in Swing – clarinet quartet
Lucky Seven by Lennie Niehaus – sax septet with rhythm section
Turkey in The Straw – sax quartet
This is a compilation video of all the music from the recital. The video player below contains the complete video for each ensemble. Enjoy!