Four Fast-Fingering Fab Clarinetists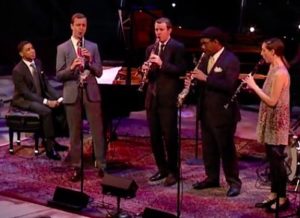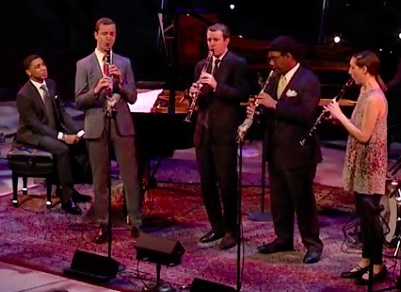 My friend and fellow clarinetist, Craig Bunch, sent me a link to an inspiring jazz concert – The Legacy of the Benny Goodman Quartet, Jazz Night In America on NPR.
The concert was narrated by author and activist, Wendell Pierce and featured:
Christian Sands, piano;
Sammy Miller, drums;
Joel Ross, vibraphone;
and four clarinetists:

Will Anderson,
Peter Anderson,
Patrick Bartley, and
Janelle Reichman.
Christian McBride introduces the show,
"Benny Goodman was more than just a great clarinet player. In the 1930s you just didn't see black musicians and white musicians in the same band. But Benny wasn't concerned about that. Thanks to him, some Americans started to see that it didn't matter who played with whom, as long as they could swing."
The Benny Goodman quartet was Benny Goodman, clarinet; Gene Krupa, drums; Teddy Wilson, piano; and Lionel Hampton, vibes, pictured above.
The NPR concert is 45 minutes of fabulousness. If you don't have time to listen to the whole show right now, I'm going to guide you to the highlights in this article. I'll direct you to minute:second marks for the licks and moments of jazz yumminess. And I encourage you to set aside some time to listen to the concert in full when you can.
For today's article, I'm going to talk about these four clarinetists and their respective identifiable voices. So let's get right to it. Shall we?
Sweet Georgia Brown by Ben Bernie and Maceo Pinkard.
Clarinetist Will Anderson demonstrates superb technique and on this tune he ably demonstrates that. Piano and clarinet start at 7:10 with a minute long introduction to the tune. The melody starts at 8:08.
What do I mean by good technique? Listen to the finger accuracy – each finger is precisely placed and in time. "In the pocket" we like to say about the rhythm and feel. Listen to the long sixteenth note run that he plays from 8:19 to 8:23. That is great technique, big fat tone, and in the pocket swing.
Well, just listen to the whole clarinet solo. Will Anderson pulls out the stops and swings hard on Sweet Georgia Brown. The fast tempo and constant running eighth notes and sixteenth notes sound effortless. Another indication of good technique. The piano is keeping the rhythm going, comping chords in an swinging oom-pah rhythm.
Christian Sands takes a solo at 10:04. oh, yes, you need to listen to that too! But right now, I'm going to focus on the clarinets only. Anderson comes back in at 11:24 and he and Sands "trade twos" (they each improvise for two measures back and forth, playing through the chord changes) through 12:20 when Anderson returns with the melody for the last time.
This is such a joyful performance of SGB. I find myself smiling again and again upon hearing a cool lick or the give and take between piano and clarinet. Check out Will Anderson's expression at 12:50 when they finish the tune. He is joyful!
Who by Jerome Kern, Otto Harbach, and Oscar Hammerstein II. Starts at 17:24
During Will Anderson's solo, listen to this lick from 18:26 to 18:30 – this is one of his signature licks. He moves the placement of the accent around the measure with a short 3-note or 4-note lick.
After the solo by Will Anderson, drummer Sammy Miller takes a solo which starts at 19:05. Listen for the melody spread out through all the drums and cymbals. Particularly at 19:22. And listen to the piano supportively comping with him. This awesome solo ends at 19:35.
Then clarinetist Janelle Reichman starts in. Already you can hear the difference in tone quality between Will and Janelle. Janelle's tone is cool where Will's is warm; sweet where Will's is fat.
A good example of Janelle's signature lick is the flurry of notes, the flourishing of notes from 19:51 to 19:55. Changing chords with each flurry of notes.
Beautiful! Her solo ends at 20:40.
At 21:10 Will Anderson returns to the stage and joins Janelle in trading twos. Listen here to distinguish the two clarinet sounds and styles. They are both playing hard swinging jazz in their own voice. And check out the harmonized lick they play for the ending!
Opus ½ by Benny Goodman and Lionel Hampton. Starts at 24:02.
The band is now complete with vibes player Joel Ross joining the quartet. Clarinetist Peter Anderson, who looks like Will's twin in a different colored suit, steps up to the mic.
I guess great technique runs in the family. You want to see some cool clarinet finger action? Check out the melody played on clarinet at 24:21. Peter's fingers barely move. This is a technically challenging phrase that goes "across the break".
On clarinet, there is a point in playing from the lowest note up to the highest notes where you have no fingers on any keys and then the next note is all your fingers closing down on their respective keys.
Also watch this at 25:18. You can hear all the pitches sounding in the arpeggiated run up the clarinet but see hardly any fingers moving. Nice!
Now the vibes player, Joel Ross has a solo at 25:50. Listen for the rhythm trio switching to a boogie-woogie feel at 26:42.
Peter Anderson solos at 26:55. At 27:07 the vibes and piano have cut out and it's just drums and clarinet. For a moment. Sammy switches to clicking his sticks together for a light sound. Then Joel is tapping his mallets on the muted vibraphone, emulating the drummer. The pianist gets into the act by plucking the piano strings in the open soundboard.
The excitement this foursome builds is unmistakable!
I haven't said much about the pianist, Christian Sands. But he is amazing. I'll just say this before we get back to the clarinetists. Listen to his amazing solo and FAST finger action – I mean SUPER FAST – at 29:45. But really that's just to set up what he does at 30:00. It's a real OMG moment.
Moonglow by Eddie LeLange, Will Hudson, and Irving Mills. Starts 35:22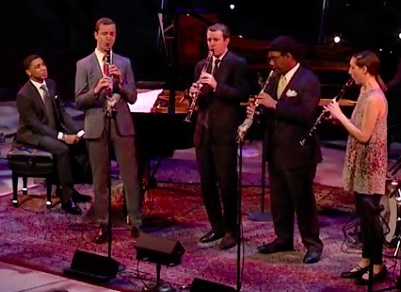 All four clarinetists are up to the microphones for this, their last number. Janelle Reichman, Patrick Bartley, Peter Anderson, and Will Anderson. They each play an 8-bar (measure) phrase of the song.
How would I describe the sound of newcomer Patrick Bartley? Open. Mellow. Wide vibrato. Clear and clean. Listen. Do you hear the distinctiveness of his sound compared to Janelle who played before him and Peter who played after him?
After the first chorus played by the four clarinetists, vibist Joel Ross takes a solo for a chorus.
Now at 39:17, all four clarinetists improvise together. It is saa-weeeet! At 39:01, the rhythm section drops out and three of the clarinets play a harmonized short quarter note pulse for the fourth clarinetist to play melody and improvise over. They effortlessly rotate in and out of the accompaniment and take turns soloing over the others.
Just listen to this whole tune.
At 40:29, one by one, each clarinetist plays freely, a 35 second to 1 minute ad lib, unaccompanied, until Janelle cues the others in for the last chord. Exquisite!
Guided Concert Tour
I hope you've enjoyed this guided concert tour of the magical music of the Benny Goodman Quartet as performed by musicians of today.
Thanks for reading. You are reading this on my website blog.
I released this post a week earlier to my newsletter list. Get the scoop as it happens by subscribing to my list.