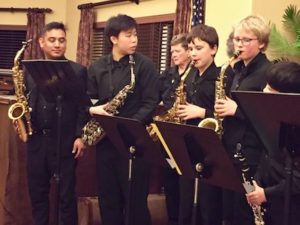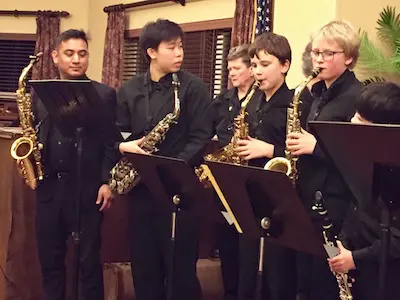 "It's fun to play in a small group. It helps you learn how to stay together better." Julian
"We played different genres of music. Each style focused on different [skills]." Maya
"Swing is fun!" Daniel
"I didn't think I would have tried jazz or swing if I had been selecting the music – but I actually enjoyed it!" Deborah
These are just a few of the positive comments I received from participants of the weeklong summer SERI classes. SERI stands for Small Ensemble Reading Intensive.
How It Worked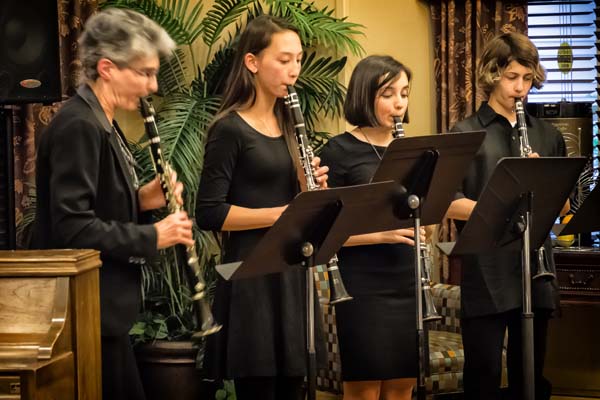 The classes ran for one week in July and two weeks in August. We built two trios and one quartet – each comprised of clarinets, alto saxes, and tenor saxes. Oh yes, one soprano sax too!
Each group received ten hours of class time at two hours per day and learned 4-5 pieces of music in varying styles. On the first day of class, I gave all four or five pieces of music to each student. We spent that first class period reading through all the music. On the following days, we intensively worked on one piece per day.
So Many Styles of Music
Each group played a variety of musical styles and this was well-received by everyone. The July quartet played arrangements of:
Finlandia Chorale by Jean Sibelius

Old French Song, unknown composer

Mission Impossible Theme by Lalo Schifrin

Symphony #7, movement II by Beethoven and

Bohemian Rhapsody by Freddie Mercury
The August trios played:
Lullaby of Birdland by George Shearing
The Land of Milk & Honey by Uwe Heger
Sunrise by Uwe Heger
Sharpshooters March by Metalo
Memories, A Waltz by J. E. Skornicka and
Stompin' At The Savoy by Benny Goodman, Chick Webb, Edgar Sampson and Andy Razaf
The musical genres they played included classical, TV theme, Folk music, Rock, March, Waltz, Swing, and Klezmer.
Helpful Feedback
When I asked participants what they would like to change about the class or how it could be improved, a few said, "More time!"
"I think the class should be longer so you have more time to learn the songs." Julian
"We ran out of time on Bohemian Rhapsody … but I wouldn't take any of the pieces out." Ally
"Maybe four pieces of music instead or five because it felt fast-paced." Claire
"More chorales." Julian and Daniel
To address these concerns and because this summer SERIes  (See what I did there) was so successful, I am offering a weekly version of SERI during the Fall months.
Weekly SERI
Weekly SERI will run every Tuesday from Sept. 18 to Nov. 6 from 4:30-6:30 pm. This is a great opportunity for clarinet players and saxophonists to play in a small ensemble and learn some great music.
Just like the summer SERI, participants will work on a number of pieces. The difference is they will have a week in between each class to practice what they learn in class.
Update 1-6-19: The Fall Weekly SERI was successful. Five students learned arrangements of these four songs:
Mamma Mia by ABBA
Bohemian Rhapsody by Queen
Remember Me from the movie Coco
City of Stars from the movie La-La Land
Performing is Fun
The small ensemble from Weekly SERI will perform all the music they learned, at the recital on Nov. 13.
I almost forgot to tell you about the performances that each ensemble did during the summer! On the Friday class, we stopped a little early and invited friends and family to enjoy a live concert on the deck outside my studio.
The impromptu concert gave each group a chance to show what they learned during the week of Intensive Reading. I am so pleased with how each ensemble pulled it all together for their respective shows at the end of the week.
After putting so much work into the music of SERI, each group was excited and proud of their accomplishments. Of course, they wanted to perform and share their music. The Weekly SERI class will have the chance to shine at the Fall Recital.
Update 1-6-19 I've added another round of Weekly SERI classes that will start Feb 5 and 6 and end April 2 and 3. Clarinet class will be held on Tuesdays and saxohpone class on Wednesdays.
Enroll in Weekly SERI.