My students are beginning to prepare for the Fall recital.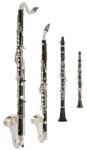 Participants in the Weekly SERI class running from Sept 18 to Nov 6 will perform the 3-4 pieces they are learning. They will be fielding a quartet composed of 1 clarinet, 1 alto sax, and 2 tenor saxes — which is NOT what is in this photo. 
L-R they are Bb bass, Eb alto, Bb soprano, and Eb soprano clarinets.
Other students will be performing solos and duets, titles that are still in the selection stage.