Spring Recital Report: Playing By Ear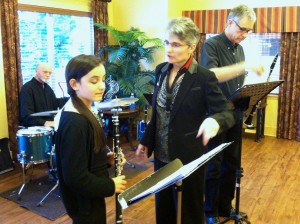 On May 29, my intrepid students and I performed transcribed jazz solos in the Spring recital for an appreciative audience at the Courtyard at Mt Tabor in Portland.
During March, April, and some of May, we each listened to a jazz recording and using our ears (and the wonderful iRehearse* software to slow down the recording without changing the pitch), determined the pitches played by the soloist on the recording.
Artie Shaw, Stan Getz, Paul Desmond, Charlie Parker, James Moody, Gene Ammons and Bud Shank were the soloists that we transcribed.
There is some darn good music from those folks. Tunes include The Girl From Ipanema, Night and Day, Take Five, Basin Street Blues, and others.
Please view and listen to the performances here on my website or on YouTube.
We were fortunate to have three fine Portland musicians to back us up in the rhythm section: Jon Oace on bass, Bo Ayers on piano, and Jay Harris on drums.
*Feb 2018 update: iRehearse no longer supports a Windows OS version. Searching for a Windows-friendly product that does what iRehearse does yielded this article: Use Audacity to Change a Song's Speed Without Affecting its Pitch