Aw! It's a Storybook Parade!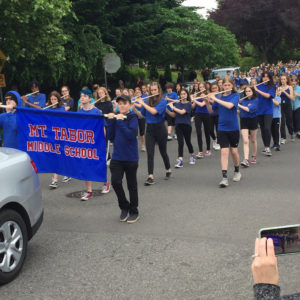 [vc_row][vc_column][vc_column_text]Last week, I swept out of the house early. Well, it was early for me. 8:50am.
I've been working with the 6th and 7th-grade band students at Mt Tabor Middle School for the 18-19 school year. They are great kids that love playing music and are engaged in the band program at MTMS. That band program is led by the highly energetic Jacob Soto.
On Friday May 31, the band marched from Mt Tabor MS over to one of their feeder schools, Glencoe Elementary, to lead the K-5th graders on their Storybook Parade through the neighborhood.
Even though Glencoe is just down the street from me, I had never seen the Storybook Parade before this. It is adorable! Each student dresses up in costume as a character from a favorite book. They hold the book in front of themselves as they walk behind the band.

[/vc_column_text][vc_column_text]Here are a bunch of pictures I took of the Mt Tabor band and Glencoe students.[/vc_column_text][/vc_column][/vc_row][vc_row][vc_column][dt_media_gallery_carousel image_border_radius="0px" slides_on_desk="5″ autoplay="y" project_icon_color="#ffffff" project_icon_border_width="0px" arrow_bg_width="36x" arrow_border_width="0px" r_arrow_icon_paddings="0px 0px 0px 0px" r_arrow_v_offset="0px" l_arrow_icon_paddings="0px 0px 0px 0px" l_arrow_v_offset="0px" include="5768,5771,5772,5773,5774,5775,5776,5777,5778,5779,5780,5781,5782,5783,5784″][/vc_column][/vc_row]