Day 25, 26, 27 It's a three-fer!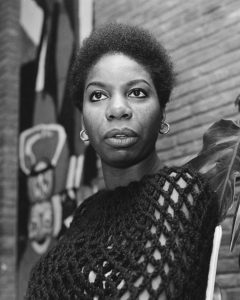 Day 25: Composer whose last initial is the same as yours. My last initial is G. I choose Gershwin!
And my tune is Rhapsody in Blue, written in 1924. Love this tune for its combination of jazz and classical references.
Day 26 is From a movie soundtrack. Hands down, my favorite movie soundtrack is The Incredibles by Michael Giacchino. Director Brad Bird wanted a sound that conjured "…the best film and television adventures of the mid-sixties; stories about superheroes and super spies…" and that was "…big, bold, jazzt – played by a full orchestra with oceans of brass… filtered through the cool of jazz and the explosive simplicity of rock." And Michael Giacchino delivers.
Day 27 Nina Simone. She was a singer with a voice like no other. She could sing gospel, blues, jazz, folk, and classical as well. In the 1960s, she became involved with the Civil Rights Movement.