5th Gratitude is for Community Bands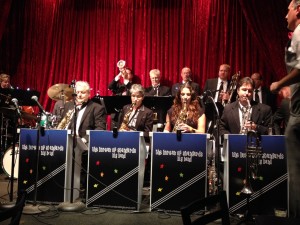 While it is true that I can make music on my own, it is wa-aa-ay more fun to play with others.
I appreciate other musicians and the groups we form to play music together. Over the years I have participated in marching bands, community concert bands, Swing big bands, jazz combos, jam sessions, group ukulele lessons, drumming circles, and choruses and choirs.
Some groups are by audition, others are open to anyone with an instrument and desire.
One of my longest associations is with the Portland Gay Symphonic Band. I joined in 1992 and have played with them since, taking a few years off in the late 90s. Tomorrow night we present our Spring Concert: Music From Our Closet, featuring music by gay composers and composers thought to be gay.
Next Sunday, I'll be playing with The Bureau of Standards Big Band at The Lehrer in a family-friendly show from 5-8pm.