Does Lyric Influence Society?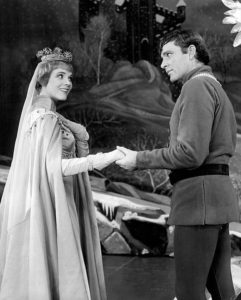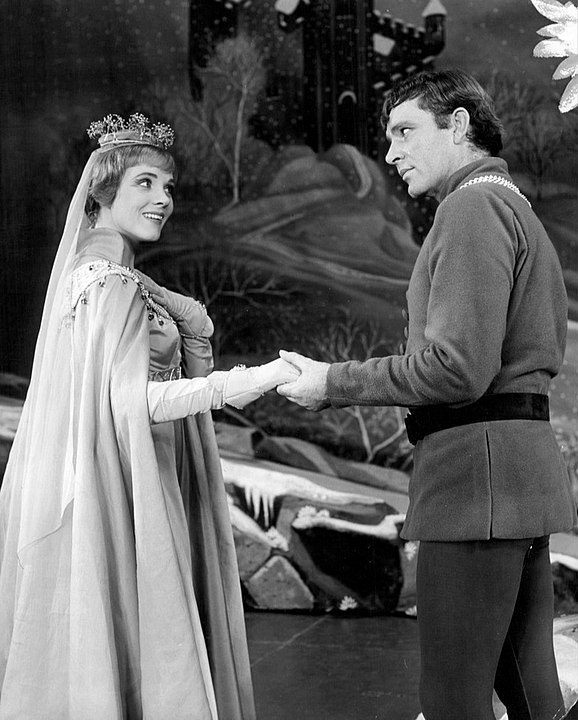 For several days last week, one song played over and over in my head. It's called an ear worm, right?
Anita and I had watched the 1967 movie version of the musical, Camelot. We watched about 40 minutes at a time. Since it's a 3+ hour movie, it took us about 5 sittings to watch the whole movie. It was pleasant to draw out our experience and enjoyment of the movie.
What was the ear worm?
Anyway, the song that was haunting my ears was How To Handle A Woman. It quite bothered me that such an unenlightened lyric was taking up so much space in my mind. The melody is beautiful and some of the lyric is clever too.
But the lyric doesn't sit right with my feminist sensibilities. Handling one's relationship to a woman, i.e. managing the relationship is the wrong approach, eh?
The title's alliteration (How to Handle a Woman) is an ingenious lyric that spills easily out your mouth when singing. It just doesn't sound the same to sing "How to Be In A Relationship With A Woman…"
Lyric and society
I also got to thinking about the effect that song lyrics have on our society. When we repeat over and over a particular affirmation, we take on that belief as our own and this influences how we behave.
When I think of songs I sang repeatedly in my formative years, they are mostly love songs (I'm A Believer, Sugar, Sugar), breakup songs (Killing Me Softly With His Song, The Way We Were), dance songs (Stayin' Alive, Hot Stuff), and story songs (Tie A Yellow Ribbon Round The Old Oak Tree, I Will Survive).
Sometimes the messages are okay. (Aquarius/Let The Sunshine In) Other times, not so much. (Every Breath You Take)
Looking back, it seems the messages were a little more empowering by the end of the 1970s than they were in the beginning of the 1960s. However, The Police's 1983 hit Every Breath You Take is one exception.
The early 60s hits were songs like The Four Seasons chart-topper, Big Girls Don't Cry and The Twist by Chubby Checker.
Let's look at one song from 1962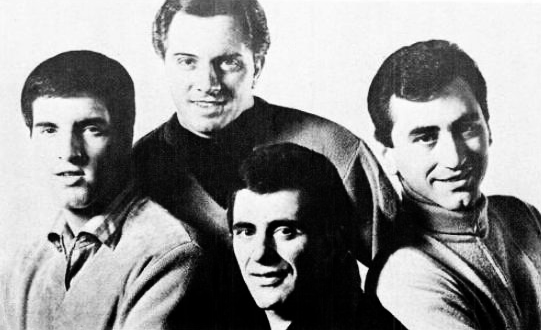 In Big Girls the boy and girl in this relationship treat it like a game. Rather than be direct and honest with each other, they lie and try to trick their way into the relationship.
When the boy sings:
(silly boy) Told my girl we had to break up,
(silly boy) hoped that she would call my bluff,
(silly boy) when she said to my surprise,
big girls don't cry!
And the girl is no better.
(silly girl) Shame on you, you told a lie. Big girls do cry!
This is how relationships operate?
When we sing the words to a song like this over and over, it doesn't surprise me that we begin to believe that this is how relationships operate.
This song was Billboard's #16 song for the decade of the 1960s. It influenced a lot of young boys and girls coming of age in 1962, when it hit #1.
I was still a little kid in 1962, so this song didn't influence me that much. But it did stay popular for most of the decade and of course, was played endlessly on "Oldies" radio stations in subsequent decades.
I thought love was only true in fairy tales
I'm A Believer is a song that's quite up front about its beliefs about love and relationships.
I thought love was only true in fairy tales
Meant for someone else but not for me
Love was out to get me
That's the way it seemed
Disappointment haunted all of my dreams

Then I saw her face, now I'm a believer
Not a trace of doubt in my mind
I'm in love
I'm a believer, I couldn't leave her if I tried

I thought love was more or less a giving thing
Seems the more I gave the less I got
What's the use in tryin'
All you get is pain?
When I needed sunshine, I got rain

Then I saw her face, now I'm a believer
Not a trace of doubt in my mind
I'm in love
I'm a believer, I couldn't leave her if I tried…
Neil Diamond wrote that "love was out to get me" until "I saw her face, now I'm a believer." Love happens in an instant. We don't know if the recipient of his love feels the same way or not. And that's kind of an important question, don't you think?
In the song all that matters is that now he's in love and all is good again in the world. (I know this song lyric influenced me, even though I was only 8 years old when it hit #1 in December of 1966.)
The lyric emphasizes being in love as almost magical. Just see her face and bam! You're in love. It doesn't teach us how to be in relationship with another person. It does teach us that not being in love is misery. "Disappointment haunted all my dreams…"
All kinds of relationships
Whether falling in love or just falling in like with a new friend, the song lyrics are talking about all kinds of relationships.
Even though most love songs are about a primary love relationship, what we learn about relating to another person in these songs surely affects our connections with family members, friends, classmates, workmates – well, anyone.
I'm gratified when I hear songs that promote positive relationship messages. In preparing this article, I learned about a nationwide project called Start Strong: Building Healthy Teen Relationships. Part of the mission of the project is to "promote healthy relationships as the way to prevent teen dating violence and abuse".
Healthy/Unhealthy songs
During the four-year initiative in Boston, teens released their top ten healthy and unhealthy songs lists right before Valentine's Day each year.
The list was first drawn up in 2009 by the Boston group. Their goal was "to identify songs that are 'healthy' and 'unhealthy' in the way they describe relationships, according to factors such as equality, respect and trust (versus possession, disrespect and manipulation)."
It's obvious why the identified "unhealthy" songs ended up on that list. The song titles alone are an indictment of misogyny and seeing woman as dehumanized sexual objects. (Blame It On The Alcohol) But even some of the identified "healthy" songs support immature ideas of love and relationship.
This project is a great idea and if it fails at finding songs with positive relationship messages, at the very least it generates some robust discussions for young teens as well as adults.
When I googled "songs with positive relationship message" I found that many people had created lists of affirming songs from Pop Music to Rap and Hip-Hop Music.
Positive messages in song
Free Your Mind by En Vogue comes to mind when I think Hip-Hop positive songs, a message about unlearning racism from four strong black women.
How about this Country tune, Just A Kiss by Lady Antebellum?
We don't need to rush this
let's just take it slow…

baby I'm alright with just a kiss in the moonlight…
I think it's safe to say lyrics have grown up with the decades. We've come a long way from the 1963 song How To Handle A Woman.
Got a healthy, positive, affirming lyric to share?
In this article I've barely scratched the surface of music with positive, affirming relationship messages. So tell all! What songs come to mind for you as examples of healthy relationships?
One tune I will leave you with is a song that celebrates a strong sense of self and happiness. And really, no relationship will be a positive experience for either party if both people aren't Happy just being in their own skin, whether single or coupled.
Happiness depends upon ourselves. ~ Aristotle
Feature photo of Richard Burton Julie Andrews Camelot By Photographer Friedman Abeles, New York, Public Domain