Inspiring Artists with Improvisation and Bringing Art and Music Together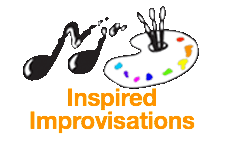 A few months ago, I brought my sketch pad and pens to a concert.
This wasn't your typical concert with the audience organized in rows and rows of chairs. No, there were chairs and tables at this event. There was an open area for dancers too.
Inspiring Artists
The musicians played jazz and pop styled instrumental music. And I sketched and drew and played with my art. This was an art and music event.
The live music sent my pen flying over the paper. It felt good and I enjoyed the art I was creating.
Then I brought out my color pencils and went to town with color. It felt a little like doodling but mostly like creating art.
Improvisation
After a short intermission, the musicians chose a few pieces of art – a poem and 2 drawings.
Then the musicians did something unexpected. They played new musical works, improvised on the spot, that were inspired by the visual and written art.
Art and Music Imaginations
So first the artists were creating art, using the live music as their inspiration.
Then the musicians were creating music, using the recently-created art as their inspiration.
July 12 Art and Music Event
In July, I'm going to offer a similar opportunity for you, whether you consider yourself fine artists or closet sketchers.
Bring your art supplies – paints, clay, collage materials, Ikebana supplies, writing tablet – whatever your medium for your visual and/or written art. My friend, Corey, and I will play some cool music for you.
The event will be held at an active art studio in Southeast Portland: Site Painters Studio. Hosts John and Laura will open their space to you. We'll have tables and chairs set up. You bring your art materials.
Music on Bass & Sax
Musicians for the evening will be Corey Adkins playing double bass and Mary Ellen Grace playing soprano sax, alto sax, and clarinet.
We are preparing some hypnotic Bach and groovy Telemann as well as some crafty originals by Adkins and Grace.
The 411
What: Create your art of choice with live music as inspiration
When: July 12, 7-8:30 PM
Where: Site Painters Studio in SE Portland
Who: Musicians Corey and Mary Ellen
Why: It's totally fun and, er, inspiring!
Cost: $13. Space is limited. Reserve your spot now!
What's In A Name?
So what the heck do you call this? Laura, John and I came up with some ideas. Do any of these tell the story for you?
Art/Music Imaginings
Art/Music Improvisations
Art/Music Impressions
Art/Music Inspirations
Do Art/Duet
Inspired Art