#InspiredArt #InspiredMusic Success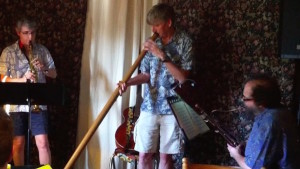 Magical!
Hypnotic!
Inspiring!
That's what attendees were saying last night at Site Painters Studio after hearing Alternate Destination play its opening set.
And then we had the improv set! More magic and creative juices flowing. This time from the musicians.
We (Michael, Joel, and I) selected one art work at a time and played out our impressions of that art.
One piece was a line drawing with water color of a community square somewhere in Prague. The piece began as a slow meander, feeling our way into the landscape with guitar, bassoon and soprano sax.
It morphed into a peppy piece as the guitar dropped out and bassoon played the melody and soprano sax provided the peppy ostinato. As the soprano sax player, I can tell you I was seeing in my mind's eye the hustle and bustle of people and vendors working and playing in the busy community square.
Reunion Concert
Tonight, 8/8, Alternate Destination plays our second and final show of the year. This is your last chance to hear our band for a while since Michael now lives in St. Louis, MO.
Please join us at Colonial Heights Presbyterian Church, 8pm tonight. $15 at the door.