Black & White Party with Bureau of Standards Big Band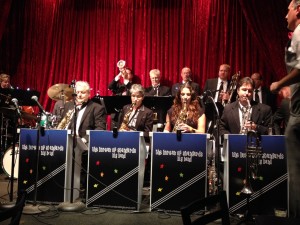 Black & White Party of Big Band Movie Music
Yes, The Bureau of Standards Big Band returns to Jimmy Mak's for the third time this Saturday!
** The Rose Festival Starlight Parade is happening around the same time. Allow for the extra time to find parking and get downtown. Or use the fabulous Tri-Met system. **
Join Kat Cogswell, Warren Black, James M. Gregg and the Bureau of Standards Big Band for a night of classic Hollywood glamour!
Well…Kat will be glamorous at least. Warren and James will do their best to resemble Bing Crosby and Bob Hope in one of those road movies.
Most of the songs in our repertoire were at one time featured in Hollywood's best-loved films, and many of these songs won Academy Awards as well.
That era from the 1930s-1960s was also the heyday of the most popular big bands, and the bands themselves were often featured prominently in the films.
On Saturday May 30th, we'll feature these classic movie themes at our very own black and white party!
Guests who join in our film trivia contest and dress in their finest black and white attire will have the chance to win fabulous prizes courtesy of the BOS Big Band!
Seating can be guaranteed with a dinner reservation…please call Jimmy Mak's at 503-295-6542 and book your table now!