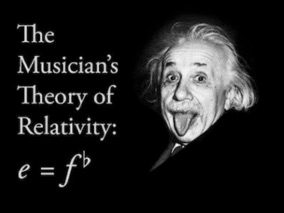 We're Serious Half the Time (2/2 or ¢)
While cleaning out some recital files, I ran across this nugget of music humor. My mother-in-law, Carola, sent this clipping from the Rogue Valley Unitarian Bulletin. Carola and I share a love of music and play violin/clarinet duets whenever we get together.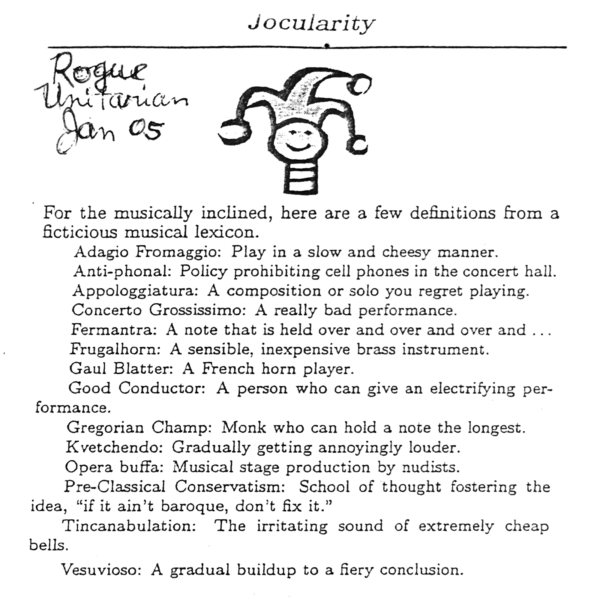 Playing Adagio Fromaggio style is a great way to spend a Sunday afternoon.
From the Interwebs
I gleaned more music humor from the Interwebs.
ALLREGRETTO
When you're 16 measures into the piece and realize you took too fast a tempo
ANGUS DEI
To play with a divinely beefy tone
A PATELLA
Accompanied by knee-slapping
APPOLOGGIATURA
A composition that you regret playing
APPROXIMATURA
A series of notes not intended by the composer, yet played with an "I meant to do that" attitude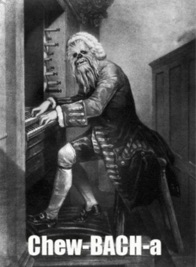 APPROXIMENTO
A musical entrance that is somewhere in the vicinity of the correct pitch
CACOPHANY [aka CACOUGHONY -psl]
A composition incorporating many people with chest colds
CORAL SYMPHONY
A large, multi-movement work from Beethoven's Caribbean Period
DILL PICCOLINI
An exceedingly small wind instrument that plays only sour notes
FERMANTRA
A note held over and over and over and over and …
FIDDLER CRABS
Grumpy string players
FLUTE FLIES
Those tiny mosquitos that bother musicians on outdoor gigs
FRUGALHORN
A sensible and inexpensive brass instrument
GROUND HOG
Someone who takes control of the repeated bass line and won't let anyone else play it
PLACEBO DOMINGO
A faux tenor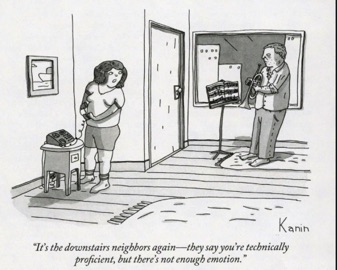 SCHMALZANDO
A sudden burst of music from the Guy Lombardo band
THE RIGHT OF STRINGS
Manifesto of the Society for the Prevention of Cruelty to Violists
SPRITZICATO
An indication to string instruments to produce a bright and bubbly sound
TEMPO TANTRUM
What an elementary school orchestra is having when it's not following the conductor
TROUBLE CLEF
Any clef one can't read: e.g., alto clef for pianists
Thanks to: http://elliott-randall.com/2010/07/new-musical-terms/
British Music Humor
A British website shared these funnies. A few work better while using a British accent.
BACH
The part of the tree which is discarded when making a guitar
BORODIN
On long-term loan. Often seen in Programmes – Borodin 1833
BYRD
See Cage
ESPRESSIVO
Served with Coffee
CON BRIO
Served with French Cheese
CON SPIRITO
Served with Brandy
SLURRED TRIPLETS
Three brothers after an evening Con Spirito
Thanks to: http://www.derek-hasted.co.uk/definitions/