Hand Over Heart Recital is a Hearty Success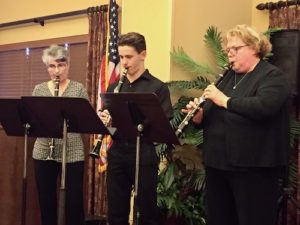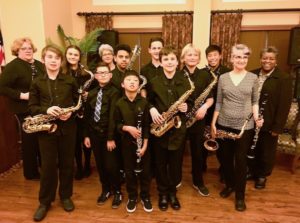 This past Tuesday evening, my students and I shared the music they've been working on for the last couple of months to an enthusiastic audience at The Courtyard at Mt Tabor in Portland.
The recital theme Hand Over Heart came to me one afternoon listening to one of my students rehearse Ave Maria as a solo clarinet piece. I had instructed him to play the music as if he were praying. What I heard moved me, without thought, I found my hand over my heart.
This young man played the music with feeling and it touched my heart. I got to wondering about this gesture. I find myself making it when I feel sad, or moved, or feel joy or awe, gratitude, or appreciating beauty.
In addition to Franz Schubert's Ave Maria, music selections included John Williams' Cantina Band music from Star Wars, Glenn Miller's Moonlight Serenade, José Rosas' Over The Waves, Ben Vereecken's Twilight Shadows and other classic recital repertoire.
You are welcome to view some photos and listen to video recordings of the performance on the recital page.