Saxophone and Clarinet Gift Ideas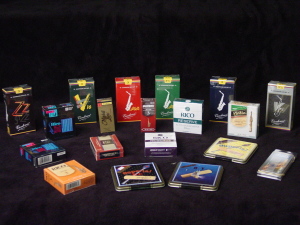 Wondering what to get the saxophone or clarinet player in your life?
Saxophone and Clarinet Gift Ideas
Whether your son/daughter/husband/wife is a beginner or advanced player of either clarinet or saxophone, there are certain accessories they will always be happy to receive as a holiday or birthday gift.
In this post I cover Reeds, Cleaning Swabs, Support Straps, Instrument Stands, and even Mouthpieces. I also suggest local and online merchants from which to purchase. Let's jump right to it!
Reeds
Saxophone and clarinet are both played using a single reed. Reeds are either made from cane (plant material) or a synthetic composite. They come in various strengths from as soft as #1 up to a strong #5. Some manufacturers refer to reed strength as 'soft', 'medium' and 'hard'.
Find out what your player's favorite reed brand is and the strength and surprise them with a box. Most cane reeds come in boxes of 5 and 10. Box of 5 @ $15-$20. Box of 10 @ $25-$30
Synthetic reeds like Legere and Fibracell are usually sold in units of one. Singly from $15-$25.
Cleaning Swabs
The cleaning swabs that may come with student instruments are usually cheap pieces of felt that don't do much in absorbing moisture from the inside of the horn. I recommend getting a silk swab or microfiber cloth swab. The cloths and weights are different sizes depending upon the instrument, so be sure to get the proper one for your instrument.
In addition to a swab for the body of the saxophone, I use a clarinet-sized swab to clean out the neck of both my tenor and alto saxes. Cleaning swabs can be picked up for as little as $15.
Support Straps
Saxophone neck straps come in a variety of models. The standard neck strap lays around the back of the neck. Neo-Tech makes some very comfortable models. There are also over-the-shoulder straps which I have used on tenor sax as well as harness models for baritone sax. $20 and up.
Typically one doesn't play the clarinet with a support strap, but younger players may benefit from using one when they start out. Without a strap, the whole weight of the clarinet rests on the first joint of the right thumb. Clarinet straps come with a leather adapter to fit over the thumb rest. $20 and up.
Instrument Stands
Clarinets just need a sturdy peg to rest on with wide leg support so the clarinet doesn't fall over. K&M makes folding clarinet stands which can fit in a case. $15-$20
Saxophone stands usually have a few more parts and one size for alto or tenor and a larger one for baritone. Also many sax stands have an option to add a peg for clarinet and/or flute. If you are a doubler (playing multiple instruments), look for these features.
Soprano stands are dependent upon the type of soprano. Is it a straight soprano or a curved soprano? Straight sopranos often use a special wide peg that attaches to standard saxophone stands much like a clarinet or flute peg.
Hercules brand stands are very sturdy, as are Belmont, Hamilton, and Sax-Rax stands. Some stands fold up. Others come in pieces that screw together. Prices range from $25 to $150 and higher.
Mouthpieces
I was hesitant to even include this category. There are so many schools of thought about mouthpieces and every teacher and player has their favorite mouthpiece which works for them. The best way to buy a mouthpiece is to play-test a handful of them and compare. Mouthpieces vary in chamber size, tip opening, and what material they are made of.
All these variants affect how the mouthpiece blows. What plays easily for me may not play well for you, given that players also vary in mouth shape and size.
That being said, I'm providing just two recommendations for mouthpieces, aimed at an intermediate player looking for the next step up.
For clarinet, my fave mouthpiece to recommend is the classic Vandoren B45. This is a good step-up model from whatever came with your instrument. There are many models to choose from and mouthpieces should really be test-played by the user. Even so, Vandoren's B45 is a staple for many players and a good choice. Approx $100
For playing legit sax or 'classical' style sax, I strongly recommend the Selmer S80 C*. I've heard whole sax sections in a wind symphony playing on C* mouthpieces and the blending is beautiful. Approx $160
For playing jazz sax, there are soooo many different mouthpieces to recommend. I can't choose just one that would be a solid choice for any player. I'll leave that topic for another article and another time. 🙂
Where to buy
Support your local music store first. But if you can't find what you're looking for locally, there are many online merchants to visit.
If you are in the Portland, Oregon area, I recommend two stores: Wally's Music in Oregon City and Beacock Music in Vancouver, WA.
Online merchants: Woodwind Brasswind, Musician's Friend, and Music123.