How to Prepare for a Concert – Listen!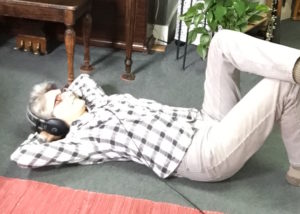 Concert Checklist
Buy your tickets!
Make plans with friends.
Listen!
Attend the show.
Buy Your Tickets
Of course you've got to get your tickets to the show. And the bigger the act, the earlier you have to get them it seems. Have you seen those ads? "Tickets will go on sale for Adele's concert (12 months away!) this Friday morning at 8am." And then by noon that Friday they're gone. But I digress.
Get your tickets. Mark your calendar.
Make Plans with Friends
Dinner before the show. Drinks after. Who's driving? Or will you be using public transit? All these logistics are my least favorite part of concert prep. But important to do.
Listen
Preparing for the Adele concert, I'd probably visit the Adele website and see if I can buy music direct from her. Then see about finding some of her tunes on iTunes or create a Pandora Adele radio station or search for her music on Spotify and make a playlist. Oh heck, knowing me, I'd do all of the above!
And then put all her music in rotation on various listening devices for the week prior to the show.
Not Pop Music?
What if I'm preparing to hear the Oregon Symphony or the Portland Gay Symphonic Band? Will my prep be any different?
When it gets to the listening part, yes.
Wind band literature and symphonic orchestra literature tends to be a bit more dense than something like Me Too by Meaghan Trainor. (Distraction: Yes, go ahead and watch this video. Funny, empowering, and the song has a great hook.)
Notice
The length and richness of symphonic music means you need to listen to a work a number of times to get all you can out of it. Then when you arrive for the live performance by the orchestra or wind ensemble, you will appreciate their performance of it so much more.
It can be enjoyable to notice the faster tempo that the Oregon Symphony takes in the first movement compared to the tempo taken by the Chicago Symphony.
Or emphasizing a different part of the motif. Or how one conductor leads the slow movement compared to how the other conductor leads.
In order to notice these things, you'll want to start listening to the music a few weeks before the concert.
Attend the show
You may be completely unfamiliar with the music you'll be hearing at the concert. By listening to it ahead of time, you become familiar with it. With familiarity comes comfort and relaxation. Come concert time, you'll be chillin' and digging the sounds.
Listening doesn't require as much effort as it would with unfamiliar pieces. You can just sit back and enjoy.
Upcoming Concerts!
September 10, soprano Renee Fleming with the Oregon Symphony – She will be singing music from Richard Strauss to Rogers & Hammerstein!
October 8-10, pianist Marc-André Hamelin performs Rachmaninoff: Piano Concerto No. 3 with the Oregon Symphony. Also hear Sibelius: Symphony No. 3.
October 22, Portland Wind Symphony performs at a new venue for us, Hinson Memorial Baptist Church.
November 19, Portland Gay Symphonic Band performs music with a theme of Angels and Demons. Expect to hear Divine Comedy Symphony by Robert W Smith and Symphony No. 1 Finale by Gustav Mahler, arranged for winds by Schneider.
For Portland area folk, these are great opportunities to put into practice the idea of listening in preparation for a concert.
Not in Portland?
What's going on in your area?