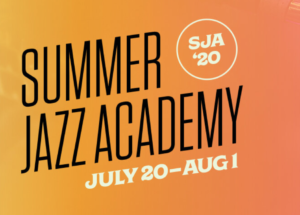 The Summer Jazz Academy from Jazz at Lincoln Center Orchestra is going on now. It started July 20 and continues with classes for two weeks through Saturday Aug 1. 
I listened to a great class on Monday, Fundamentals of Jazz Through Rehearsal with Chris Crenshaw, trombonist for JLCO and one of the arrangers of the group. There is so much detailed information in everything all the instructors share! 
SJA is free and for the first time online this summer. This is a great opportunity for music lovers of all skill levels and all ages. Did I mention that it is free?
Keep in mind that the times listed for the classes are Eastern. I did not take that into consideration this morning and missed the Jazz Listening class with Wynton Marsalis. I'll definitely catch class on Wednesday – at 7am Pacific! 
Summer Jazz Academy is a free, interactive, 2-week virtual program designed and instructed by members of the Jazz at Lincoln Center Orchestra with Wynton Marsalis, as well as some of the world's most renowned jazz artists, including drummer Jeff Hamilton, pianist Eric Reed, and bassist Rodney Whitaker.
Participants will attend virtual classes in all aspects of jazz pedagogy and advanced jazz performance. Jazz enthusiasts, musicians, and students of all ages and skill levels are welcome. Deepen your jazz knowledge, develop your skills, and strengthen your performance while building a community of peers. 

Summer Jazz Academy website